At Orehov gaj, in the shadow of a mighty oak tree, you can play axe throwing outdoor!  Book in advance – send us an e-mail info@axe-throwing.si >>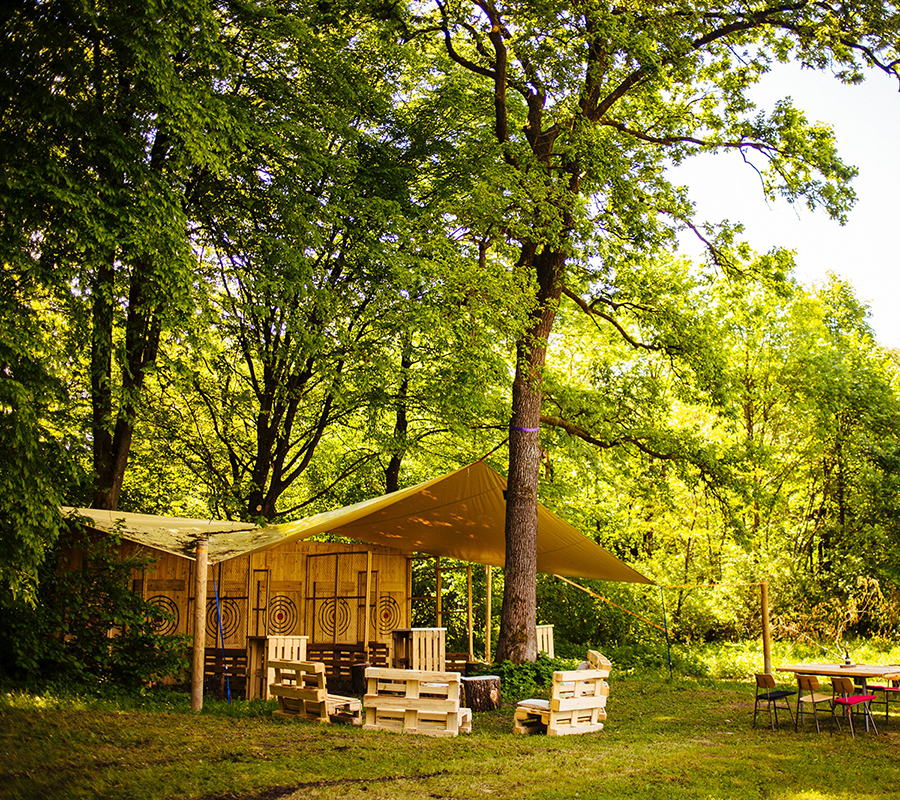 Na voljo  je šest stalnih tarč v treh ogradah. Prizorišče je posebej primerno za podjetja in skupine od 10 oseb naprej, ki si želijo druženja v naravi.
VZNENIMIRLJIVO DOŽIVETJE – V VSAKEM VREMENU!
Prav nič se ne more primerjati s tistim posebnim občutkom, ko se vaša sekira zapiči v mehak les v centru tarče – v vsakem vremenu, saj ima tudi prizorišče v Orehovem gaju svojo streho.
PROGRAM ZA VSAKOGAR
Povabite prijatelje, sodelavce ali poslovne partnerje. Metanje sekire ni šport na moč. V njem lahko najšibkejša sodelavka premaga najmočnejšega dedca v vašem podjetju.
ZABAVNE TEKMOVALNE IGRE
Po kratki šoli sekirometa, v kateri se poučimo o varnosti in tehniki metanja sekire, sledijo različne zabavne igre, ki prav vsem narišejo nasmeh na obraz.
HRANA IN PIJAČA
Pred ali po sekirometu se lahko osvežite tudi s hladnimi pijačami in uživate v kulinarični ponudbi dneva v Orehovem gaju.
VARNOST: Programe smo uskladili tako, da lahko sledimo smernicam NIJZ za zagotavljanje varnosti pri športno-rekreativnih individualnih doživetjih na prostem.  Več o varnosti tule https://axe-throwing.si/sekiromet-na-prostem/
BOOK AT LOCATION OREHOV GAJ NOW
Book your 90 minutes of fun from Thursday to Saturday between 15.00 in 21.00). Play outdoor in the shadow of the mighty oak tree at Orehovem gaj at Obrije (Tomačevo) in Ljubljana. 
Choose the date and time. You can pay with Paypal in advance or at the location.
For additional info, you can call +386 40 87 87 38 or send us an e-mail to  info@axe-throwing.si.
Price: 17,5 € per person (5 or more players), 21 € per person (3 or 4 players) 24,5 €  per person (one or two players) and   8,75€  per children up to 18 years.
Utrinki:  Sekiromet® v Orehovem gaju
Kako do nas?
– IZ BTCja – po Šmartinski cesti nadaljujte mimo City Parka čez obvoznico do odcepa levo za vas Šmartno (ob Savi). Nadaljujte po glavni cesti čez vasi Šmartno in Obrije. Ko se boste peljali mimo podjetja SITOGRAF in bo na vaši levi zmanjkalo hiš, glavna cesta zavije v levo, vi pa se (tik za tablo, ki označuje konec cone 30 km/h) na ovinku pri smrekicah po asfaltirani cesti spustite skozi gozd na prizorišče. Skupaj 1.9km. Dostop tudi po Jarški cesti in Koprivni poti.
– od Rondoja Tomačevo  – zapeljite na izvoz Tomačevo in vzporedno z obvoznico do prvega semaforja, kjer zavijete levo čez obvoznico v vas Tomačevo. Po nekaj 100 metrih od nadvoza nad obvoznico pridete do križišča, kjer je končna postaja avtobusa št. 19. Na križišču zavijete desno in nadaljujete po glavni cesti proti Šmartnem. Ko boste po 700 m prišli v strnjeno vas Jarše nadaljujete po glavni cesti. Ko na vaši levi zmanjka hiš v Jaršah se peljete še 200 metrov in (tik pred vasjo Obrije) na ovinku pri smrekicah zavijete levo in se skozi gozd spustite na prizorišče. Če ste prišli do podjetja SITOGRAF ste šli 200 metrov pradaleč. Skupaj 1.5km od končne postaje avtobusa št. 19.