Congratulations to the winner of the First National Axe Throwing Championship Sekiromet™ WATL Slovenia 2019: Zvone Turk!
The final tournament of the Winter League Sekiromet™ WATL Slovenia was held on 17 May 2019 in the Axe Throwing Europe Center at Kajuhova 35 in Ljubljana. After a series of 7 qualifying tournaments, the best 16 players qualified for the final tournament.
At the first national championship by the WATL system, 2 finalists competed in 10 throws and the first person to win 2 out of the 3 matches was declared the winner. The final pairs were:

Simon Šega and Dragan Vučič, Zvone Turk and Nataša Potočnik, Zlatko Permoser and Aleš Lapuh, Bernard Šutić and Bojan Zalar, Robert Lisac and Dušan Ložar, Miran Vidic and Filip Turk, Aša Grahelj and Gregor Furlan, Peter Arčon and Periša Bašarić.
The finalists played by the double elimination system. Meaning that each person had to lose twice. After losing the first game, players dropped into the underdog (U) bracket for the final placement. Additionally, the winner of the underdog bracket proceeded to the final round with the winner of the W bracket.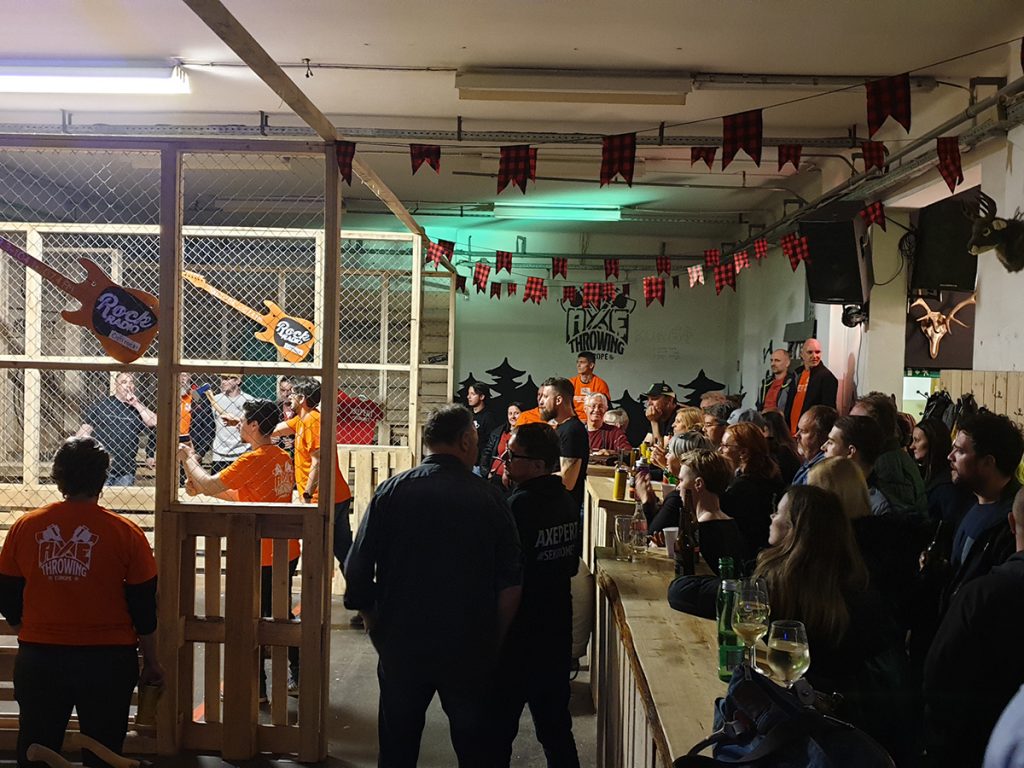 The winner of the W bracket (Zvone Turk) and the winner of the U bracket (Bernard Šutić) competed in the grand final consisting of the best of 3 matches. After a really tense final round, in which the decision of who would be the winner came down to millimetres, Zvone Turk won.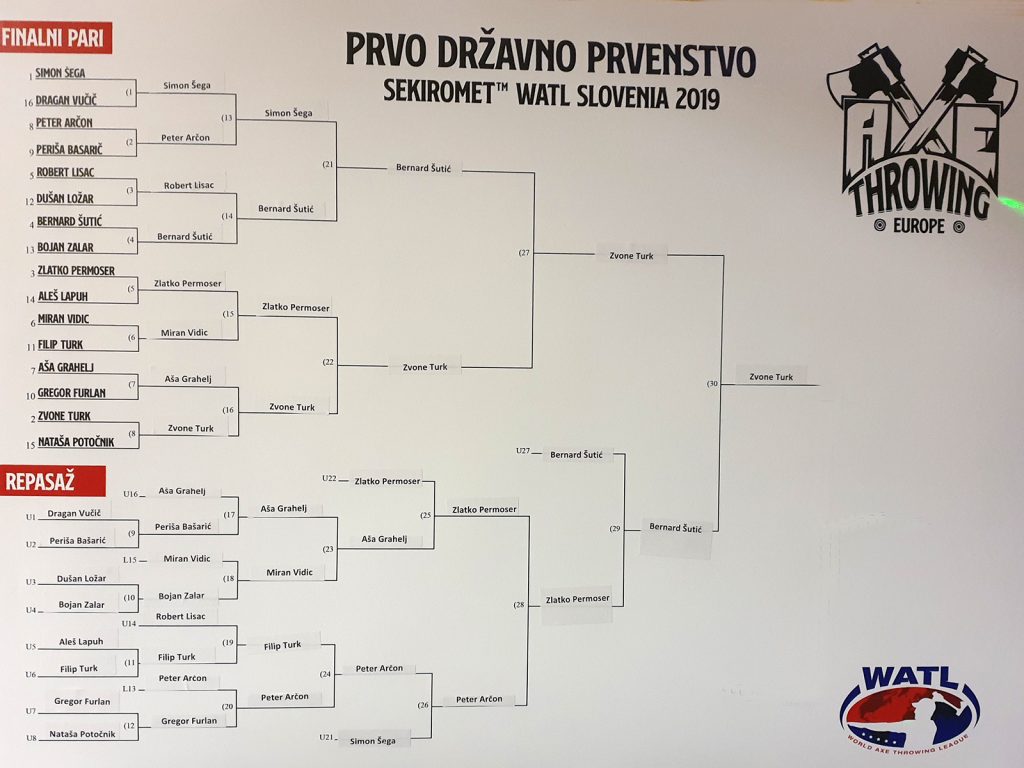 The atmosphere was fantastic: throughout the tournament series, the competitors had become true friends and during the final tournament they cheered and encouraged each other enthusiastically. The good-natured but also very strict axe-pert instructors Anže and Rene tallied the points under the watchful eye of commissioner Žiga Novak.
The "golden" Zvone and Aša took home their very own, brand new splitting axes, which were donated to the prize fund by Fiskars. We also wish to thank our sponsors – Craft brewery HopsBrew, Brewery Rebel and Rock Radio and, of course, the excellent team from Orehov gaj, who served up phenomenal "pulled pork" sandwiches, and the punk rock group R(i)T, who entertained us long into the night!
Photogallery of the First National Axe Throwing Championship Sekiromet™ WATL Slovenia 2019